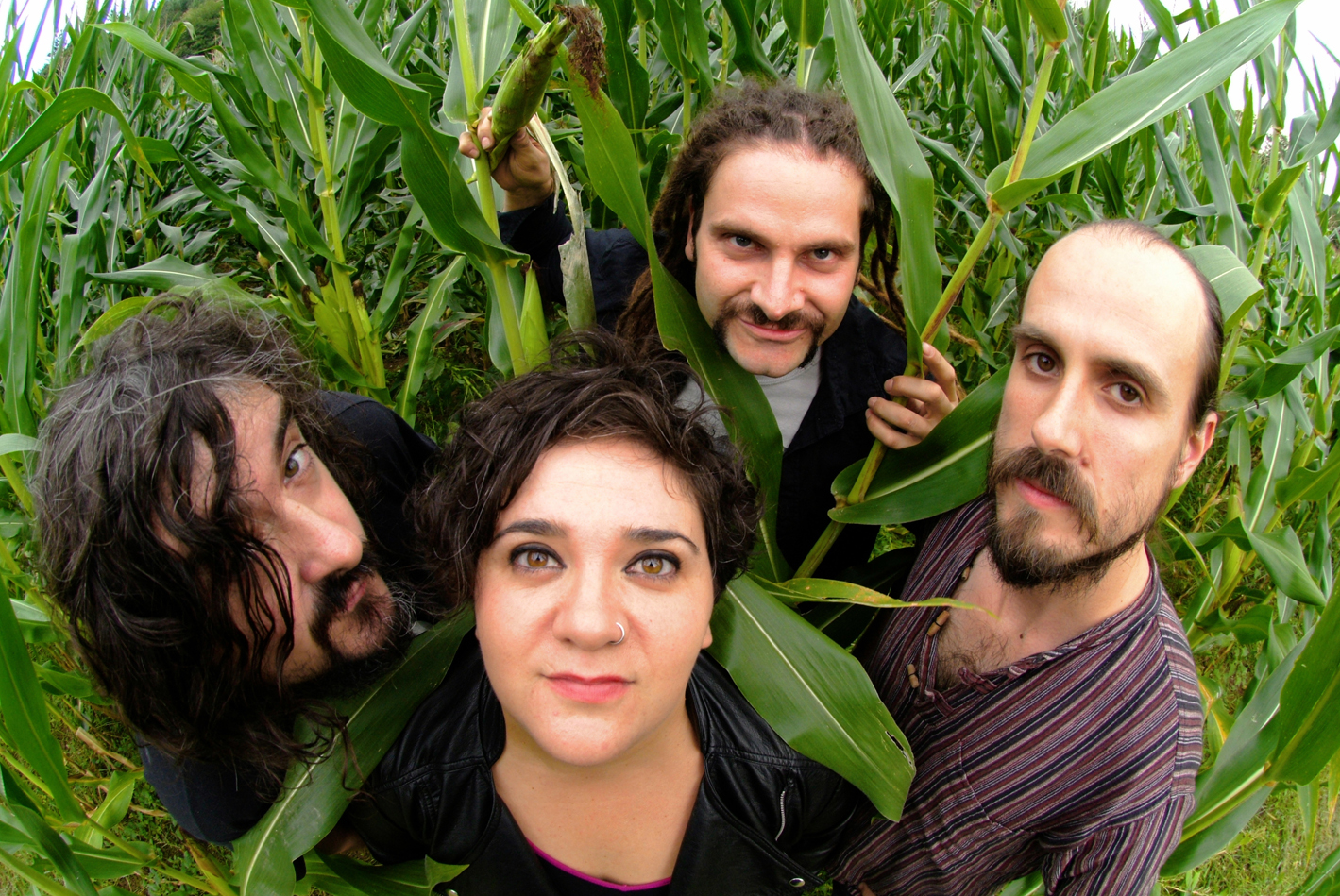 Zea Mays were formed in Bilbao in June 1997 after the members met in London on a trip. Soon after, they recorded a demo which won the 7th Euskadi Gaztea Demo Contest gaining them recognition in the Basque rock scene. This led them to sign their first contract and Zea Mays entered the studio the following year to record their eponymous first album. Rave reviews followed, Mondo Sonoro magazine included it among the 10 best albums of the year, as would happen with all their following albums.
Their second album "Elektrizitatea" was considered the best album of the year 2000. The band toured Holland, with a stand-out show at ADM Robodock in Amsterdam. Two years later with a new label and a new album, "Harrobian", featuring well-known guest artistes drawn from the Basque music scene.
Over the summer of 2000 they travelled to Madrid for their Festimad gig sharing the bill with bands like Pixies, Korn, Ben Harper and Patti Smith and a few months later they were back on the road, with tours of Germany and Holland.
In 2005 they released their fourth album "Sortuz" again collaborating with some famous Basque artists (Francis, Dr.Deseo, Rafa Rueda…). Later that year they recorded the Kafe Antzokia gig live, which was included , two years later, with their next album "Morphina" as an bonus to celebrate the band's 10th anniversary. It included two songs in English for the first time. After touring together with various Japanese bands in the Basque Country, they toured Japan in August 2009.
Their sixth album, "ERA", which contains twelve songs, was recorded at Lamiña Producciones by Jose Lastra and mastered by Tony Cousins at Metropolis Group in London. The third track "Negua joan da ta" reached number 1 at Myspace during the first two months after its release, and more than 600.000 views on Youtube.

The tour of the last album ERA saw full houses wherever they performed, from gaztetxes (Kukutza-Bilbao), to concert halls (Plateruena-Durango, Razmatazz-Barcelona, Caracol-Madrid) through festivals (BBK-live) and fiestas of Donostia or Gasteiz. Even their international gigs ( Canadian Music Fest- Toronto, Liverpool, London…) had good turnouts and very favourable reviews due to their powerful and moving live performances.
As a grand finale at the end of 2012 Zea Mays carried out a farewell mini-tour called End of ERA, which brought them to their fans in four venues around the Basque Country.
Afterwards they shut away in their rehearsal studio to prepare the songs for their next album.
On the 15th of July they started the recording of their seventh album with the prestigious English producer Dave M. Allen at Tio Pete Studios in Urduliz. He is renown for producing works by The Cure, such as "Disintegration" and "Kiss me, kiss me kiss me" and other bands like Depeche Mode, The Sisters of Mercy, Neneh Cherry and recently the Danish Reptile Youth.
The album has been also mixed by Dave M. Allen at Club Ralph Studios in London and Andy "Hippy" Baldwin has mastered it at Metropolis Studios, London.
The album DA came out at the end of 2013, and got great reviews and praise from the music press as well as being greatly wellcomed by the audiences. The DA Tour took the band to play more than a hundred gigs in the years 2014 and 2015, in an array of (sold out) venues along the Basque Country, Madrid, Barcelona, Valencia, Zaragoza, London and Berlin. They also played on spanish national television (TVE) as part of a series of concerts called The concerts of Radio 3.
The DA Tour took them also to a number of great festivals such as BIME live (Bilbao), BIG festival (Biarritz), BBK-Live (Bilbao), Monkey Week (Cadiz), Portobello Live (London) or EH Zuzenean(…).
The tour ends in december 2015 and the band starts working on their 8th album which they record in july and august 2016 in the Tio Pete studios. Once again with Dave M. Allen as the producer and Jose Lastra on the sound engineering. Dave Allen mixed this album too, this time at STUDIO 7 in London, and Andy "Hippy" Baldwin masterized in at the Metropolis Studios in London.
This 8th album called HARRO (Proud) will be released in November 2016. It features Raul Lomas of the band DOCTOR DESEO on keyboards and synthetizers, and a very special vocal colaboration of Santi Balmes of LOVE OF LESBIAN.
HARRO is a production of the band's own record label GARDEN RECORDS and will be launched in the capitals of the Basque Country, Barcelona and Madrid in november-december 2016.
In 2017 ZEA MAYS will be cellebrating it's 20th anniversary with a special tour and lots of surprises…
Stay put…you have been warned…
ZEA MAYS —- HARRO ………………won't leave anyone indifferent!